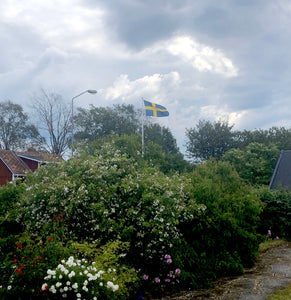 Homesick.
Hemlängtan. Homesick.

I have memories of literally crying and having a knot in my stomach every single summer that my vacation back home has ended and it has been time to go back to the US. I have this one distinct memory when I am standing in my friend's hallway, by her front door, and we have just hugged each other good bye. And I turn around, completely breaking down in tears. Fulgråter. 

And she goes: but... do you NOT want to go back? And in between the tears, I sigh no. I want to stay here. This is home. 

But the next day, my parents took me to Arlanda and I hugged them good bye with even more tears and the biggest knot in the stomach a daughter can have - and I hopped on my plane to take me back to the US. Almost like clockwork.
Like a robot with a habit, I guess.

In hindsight - I can not tell you why. I have zero explanations or reasons why I have always come back. No clue. It could be my dog, Sally, that I adopted. Back then it wasn't that easy to bring dogs to Sweden from the US. It could be that moving back home felt like a defeat, like giving up. Or it could be that I was just scared of leaving this place that every one else is dreaming of. Trying to still make it my home. 

I honestly don't know. But the feeling of not wanting to go back after a summer in Sweden has always - a l w a y s - been there. For twenty fucking years. But for twenty fucking years I have always hopped on that plane, tears in my eyes and denial in my head. Why? 


This July marks twenty years since I moved to the US. I was 22, I am now 42. I have spent most of my 20's and my entire 30's here, and yes, it has been an amazing experience, an experience that definitely has shaped me as the person I am today. It's had its many ups and many downs. It's been exciting, exhilarating, fascinating. Beautiful. I have lived in places most people dream of visiting. 
Los Angeles, Waikiki, Monterey, San Diego. Chicago.

But the only place I have ever dreamed of living is Stockholm. 

And now. Exactly twenty years later.
I am going home. 

My husband and I have decided to put the house on the market, sell it and move. We are what you can call EXTREMELY impulsive. We were going to wait a couple of years, but the current situation in the world with the virus and all, has made us rethink our options, our values and our priorities. Family comes first, and we both think that our family will have a better life, a better future, in Sweden. 

It's his turn to be homesick now. Will my husband be the one in tears for the next twenty years? Or the kids? Only time will tell! Lots to do before our move and as I type this I still can't believe it is happening. 
But here we go. Mr. and Mrs. Impulsive is selling another house less than 2 years of buying it, and making another move across half the globe. 

I have moved 12 times in the last 20 years, so I am used to packing. Tired as fuck of moving, yes, but I am used to it. I got this. Last time we moved was a year and a half ago. We sold our house in San Diego on a whim and moved to Chicago. Bought a house we had only seen on FaceTime. (More on that another time).
Hopefully, this move will be one of the last. Hopefully this will be the end of my quest to find home, as I know it. 
---
3 comments