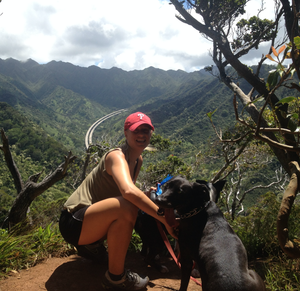 The Middle (Hawaii).
This might seem ludicrous on a dark December afternoon, but I honestly think the human body can get tired of sunshine. What? Am I crazy? 
Yeah, maybe. But after spending 20 years the US, and where 18 of those years were in the sun, I am definitely cherishing these polar opposites. Ten years after I moved to Los Angeles, I had a big life changing moment but instead of moving home to Stockholm, I decided to move as far away from home as I could  - 
to Hawaii! 
I have always been a believer in following your dreams and listening to your heart, and yes, very often that equals lesson learnt and heartbreak. 
This story is no exception. 

This is the story of the two years I spent on the island of Oahu, where I moved after quitting my promising design job in Los Angeles on a whim. As I mentioned before, I left a very long relationship, took the dog and moved to an island far far far out in the Pacific. Only if you have visited Hawaii do you know how far away it is. After you leave mainland USA, you basically fly over water for 5-6 hours until you see this tiny tiny group of rocks in the ocean and that is the island group of Hawaii. 

Why did I not move home? Well, partly because I met another guy, and partly because I am adventurous. And moving home always seemed like too big of a move. Seemed like the impossible. And as a hopeless romantic, I guess I told myself it was time for a new adventure for me and my beloved puppy, Sally. 
Sally. 
If you have followed me on social media for a while, you know dogs are my life. I mean, I love my kids too of course, but I am very much obsessed with dogs. I don't think I have ever in my life walked by a dog on a street and not said hello. Dogs are the best. And the best of them all was Sally.



 
Sally was a jet black labmix that my ex-boyfriend's mother found roaming on the beaches of Baja California, Mexico. Sally wasn't the most well-behaved dog and terrorized the cats in her posh LA neighborhood, but I loved that dog from the very first day I saw her. So I took her in and not long after did Sally and I move to Hawaii, just the two of us. It was August 2010, exactly ten years after I moved to the US.  

Hawaii is hot. Sunny, humid and hot. I started my freelancing business and got a wide range of clients. Besides being humid and hot, Hawaii is also breathtakingly beautiful. Palm trees, volcanoes, long white beaches that span the entire coast around the island. Black, white and green volcanic rocks. 

We lived in an apartment a block from the beach in the busiest tourist area of Waikiki... You could not walk a meter without getting ambushed by people trying to sell jetski tours, boat tours, dolphins tours, shark diving tours, SUP surfing, hula classes, luau dinners, etc etc etc. And if you look like a pale Scandinavian, it doesn't matter if you walk by the same people trying to sell the same tickets every day for two years, you still look like a pale tourist to them. 

It was here that I started to see the backside of it all. The tourist industry. Living in the smack middle of a city solely dependent on tourism makes you see things you don't normally notice. What the paradise of Waikiki looks like at 4am, 6am, 8am. Full of drunken soldiers off duty sleeping on the streets. Before the hotel lobbies are cleaned up, the streets are swept and the cafes and restaurants have opened up again. The streets of Waikiki are full of prostitutes. I mean F U L L. After a while, you start recognizing them. The women standing on the corners talking to drunk tourists walking by. Many times would you see the pimp's car slowly roaming be blocks where "his" women were making money for him. Very often did I witness these women being abused, both verbally and physically, and no, the police never did anything. They roam the streets too, but they only see what they want to see. In fact, when Obama hosted the G7 nations there in 2010 or 2011, the number of prostitutes increased by a fourfold, but the number of arrests almost decreased to zero. Why? Could it have anything to do with the powerful leaders of the world visiting?  

Another backside of Hawaii is the drugs. Mostly meth is very common in poor areas, and many many poor areas there are. People are working 2-3 jobs to survive and since the general rule is to not allow any large mainland store chains onto the islands, and the fact that everything has to be imported, everything is in general more expensive. I had clients who couldn't pay me in money so instead offered me to pay me in chocolate... another one offering to pay me in fish tacos. All good... I love fish tacos, but they are very hard to pay rent with. 

But my years on the island wasn't all that bad. I sure did enjoy the amazing beaches, the warm weather, the green ocean that was always warm, the AMAZING food. Fresh tuna caught five minutes ago. The dramatic scenery and the weather, of course. And I made some great friends.
But I also missed home. And just as I had missed Stockholm during my decade in Southern California, I now also missed the US mainland as well. Hawaii is gorgeous, but Hawaii is a rock. It takes about 45 minutes to drive around the island and it's not for nothing they call it "rock fever". For me it was hard to be isolated on an island and to be on a 12 hour time difference from Sweden. 

I was in LA when 9/11 happened and I was in Honolulu when the 2011 Tohoku earthquake and tsunami happened, followed by the terrible Fukushima nuclear disaster. Living just a few blocks from the beach of Waikiki, we had to evacuate late at night for the tsunami that was expected to come (it didn't, thankfully).
But more than the threat of a tsunami, the event put a big toll on Hawaii's tourism industry. For a long time, no tourists from Japan would come over and for a society that is completely dependent on tourism, mostly from Japan, that was another form of a disaster. 

My clients struggled a bit and there was a different vibe over the island. Around the same time, my friend's husband was diagnosed with a brain tumor. As it often goes in the US, his insurance company did not cover cancer treatments and I took part in a SUP race to help finance his treatments. This was my second time ever to stand on a paddle board, the first time being the day before. But the entire move to Hawaii had a theme of spontaneity and impulsivity, so I decided to join in on the race.
Started off in the middle, finished at the end...
And I am glad I did. Although I sucked and came in second to last out of maybe 500 paddlers (I was passed by an 8-year old girl, a man with a golden retreiver on the board, along with 498 other people), but I did it! I paddled 5 km in open ocean water on a stormy day! And we helped raise thousands of dollars for my friend's husband's chemotherapy. Just to get a glimpse of that Ohana spirit that is all about what Hawaii is, was special. Seeing hundreds of people donating time and money for someone else's fortune, I think is very much what Aloha is all about. But I think it is also so sad that it is needed. And of course this is not special to Hawaii; all over the US, people are funding strangers' medical needs through Go Fund Me, but still many refuse to pay higher taxes to have universal healthcare. 

For someone who grew up in Sweden, that is mind-blowing.

What else is mind-blowing, is that I didn't move home when I left Hawaii. Instead, I moved to central California. Monterey, Carmel-by-the-Sea and Santa Cruz are beautiful parts of the California central coast, and I ended up in Monterey because the boyfriend got relocated there from Hawaii, and I was just happy to be back on the mainland. I traded pineapple fields for corn fields and I still freelanced and kept many of my Hawaiian clients. Sally the dog was happy to be back in the colder weather, the humid heat is tough even for a Mexican dog. Monterey is a lot colder than the LA weather I was used to in California and I loved it. I remember buying my first pair of boots in over 10 years. 

But a few months later, Sally and I left Monterey. This is, again, a mystery why I didn't just move home at that time. I know I wanted to. I had always wanted to.

But did I move home?

Nope.

My best friend and partner in crime went on to new adventures and moved to San Diego!



---
1 comment